Special offer Harken Winches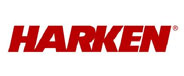 | | | | |
| --- | --- | --- | --- |
| | Secure Grip | | Stress free maintenance |
| | Controlled easing | | Worldwide Shipping |
Harken Radial Line winches have successfully balanced the need for a secure grip and line longevity with smooth, controlled easing while under load. Details sailors will appreciate: smaller winches that carry higher loads and stress-free seasonal maintenance.
Energy-efficient motors accomplish more work per unit of electricity consumed. Motors attach to central drive shaft and drive through winch gears for two-speed mechanical advantage.
Can't find what you are looking for? Please contact us.
20% DISCOUNT IS AUTOMATICALLY DEDUCTED IN YOUR SHOPPING CART
Discount ends 9th October 2022!