Online Splicing courses by Premium Ropes
Premium Ropes is well known for many types of splicing instruciton videos and books. This year we also introducing a new range of online splicing courses. These courses are divided into four themes. The first themes are already planned and published. The other themes will follow soon.
Participation in all Webinars is free of charge. We do recommend that you have the right splicing tools and a set of ropes for practising. We made small sets for each webinar
Webinar: Splicing modern ropes
In two separate webinars we explain the various materials and rope constructions of modern ropes. We will also explain which rope to choose for a specific application.
Even though this is an online event, the webinar is very much about 'Doing It Yourself'. You will learn how to splice halyards made from Dyneema® or Stirotex fibres and double braided polyester ropes. We also explain how to make softshackles. All splices will be demonstrated step-by-step and you will have plenty of time to follow the instructions. During the webinar there are opportunities to ask questions.
The webinar will be free of charge. You will need however a computer with internet connection, splicing tools and the right ropes to practise. We made a Webinar Rope set containing all the ropes you'll need during the webinar. The Splicing set Webinar is for those who need the Rope set and the splicing tools.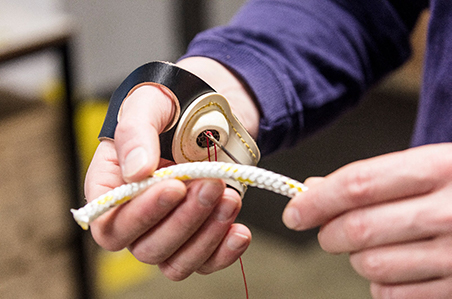 Webinar: Mooringlines, fenderlines and how to splice them
Make sure that your yacht is safe in the harbour. Choosing the right mooring lines, jump lines, fenders and fender lines is very important. Spliced ropes will have a higer breaking strenght which ensure a reliable way of docking.
In this Webinar we explain how you can splice beautiful mooring lines. We we also show you how to make fender lines from a braided rope. You'll learn how to determine the correct rope length/diameter and how to inflate a fender properly. With