Online workshop rope splicing

Online Splicing Workshops by Premium Ropes
Premium Ropes offers two differrent online splicing workshops.
Workshop: Splicing Modern Ropes
Premium Ropes introduces a new online Webinar: Splicing Modern Ropes. In two separate webinars we explain the various materials and rope constructions of modern ropes. We will also explain which rope to choose for a specific application.
Even though this is an online event, the webinar is very much about 'Doing It Yourself'. You will learn how to splice halyards made from Dyneema® or Stirotex fibres and double braided polyester ropes. We also explain how to make softshackles. All splices will be demonstrated step-by-step and you will have plenty of time to follow the instructions. During the webinar there are opportunities to ask questions.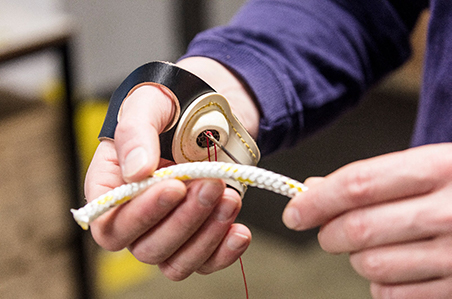 Webinar: Advanced Splicing
After a successful first series of the Webinar: Splicing Modern Ropes, we now present the "Advanced Splicing Webinars". In three different webinars we will continue to learn how to splice modern ropes. This time we will cover the more difficult splices! Of course, we will also show you all the insider tips & tricks during the webinar. So sign up quickly!