Colourful rope curtains as room divider
We make room dividers of rope curtains with our ropes. Rope curtains determine the atmosphere of the space they hang in. Below you see some examples of room dividers that we made. Because of the bright colours of the ropes, these room dividers make real eye-catchers. Every project is tailor made and is realized in close collaboration with the interior architect. Premiumropes produces the ropes at the specified colour, finishes them and - if wanted- mounts the rope curtain on site. Ideal for project design of offices, schools, hospitals, restaurants, stores and other interior designs.
Are you designing an interior and considering a rope curtain? Mail us or call at +3120-419 6412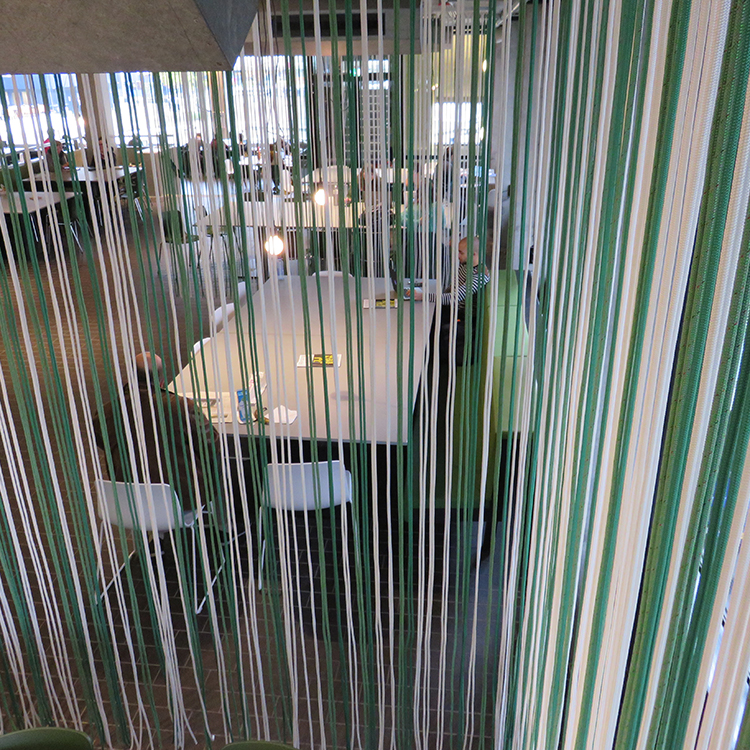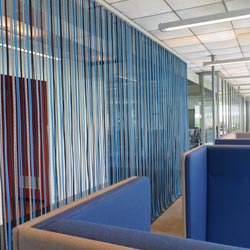 Room divider made of black braided rope
The room divider below is a design made by OTH Architects in Amsterdam. This room divider was developed and realised in close cooperation with Premiumropes. For this office building we mounted this room divider of ropes. This room divider was designed as a safety precaution. So people would not trip over the sill on the floor. A room divider that is after all still 'open, so that one can look through easily. A seemingly random design of black braided rope makes this room divider very special.  
Premiumropes developed a special U-profile for the mounting of this rope divider. We used for this rope curtain a 12 mm black double braided 'Dockline'. 
You can use rope curtains to divide a room in many ways. For example, we have hung several rope curtains in a large canteen. The rope curtains created beautiful intimate seating areas. Also, rope curtains contribute to better acoustics in a room. Premiumropes has done projects with various architects. This this always lead to good teamwork. We listen carefully to the design wishes of the interior architect and look for the best solutions. The rope curtains are handmade and completely customized. We do the assembly on site carefully and neatly. Are you a designer, designer or architect for shops, restaurants or offices? Think how beautiful a rope curtain can make your interior.

Looking for inventive solutions?