Theatre and circus rigging
For theatre productions and circus rigging we supply special ropes. Premiumropes has its roots in the nautical and maritime industry. Ropes and steelwire rigging are vital systems on board of sea-going sailing yachts. We therefore fully understand the importance of safety for theatre, event, stunt and circus rigging.
Ropes for theatre rigging
A theatrical rigging system consists of many rope lines and blocks. This fly system enables the stage crew to fly curtains, lights, scenery and other stage effects. Theatre rigging must be safe, quiet and reliable. In some theatres hemp rigging is still the case. However most theatres have moved to modern synthetic fibres like Dyneema®. Premiumropes supplies black ropes of Dyneema® for theatre rigging. These theatre ropes can carry heavy loads and are lightweigth. Ropes for theatre rigging are often black and thin, which makes them almost invisible on stage. When heat resitance of the ropes is important, we often advise Aramid fibres such as Kevlar and Technora. Ask our team for advice on rope materials that work best for your theatre production.
Premiumropes can produce and supply all kinds of ropes for theatres. Decorative ropes in all colours for bannisters and guard rails. And also industrial ropes for heavy lifting and stunt rigging. Premiumropes has its own rigging workshop where we swage all kinds of terminals to steelcable. Our engineers are happy to work with you and see what solution fits best for your theatre, ballet and stage production. We are based in Amsterdam (the Netherlands) and ship our ropes world wide. Contact us via email or call us at +31 20 419 6412.
The Salzburger Festspiele (Austria) is a nice example of a theatre project. Premiumropes supplied ropes to hang huge balloons on stage.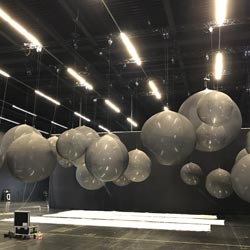 Ropes for circus rigging
Circus rigging for flying trapeze requires complex rope constructions. We like to engineer together with you what rope solutions works best for working at height. For example we work together with Noe Robert, who is a circus teacher at Fontys Academy for Circus and Performance Art. For him we spliced our ropes to special Ronstan Industrial hardware. We also design solutions with Harken industrial products. Safety and reliablity are of the utmost importance for aerial rigging and circus rigging.