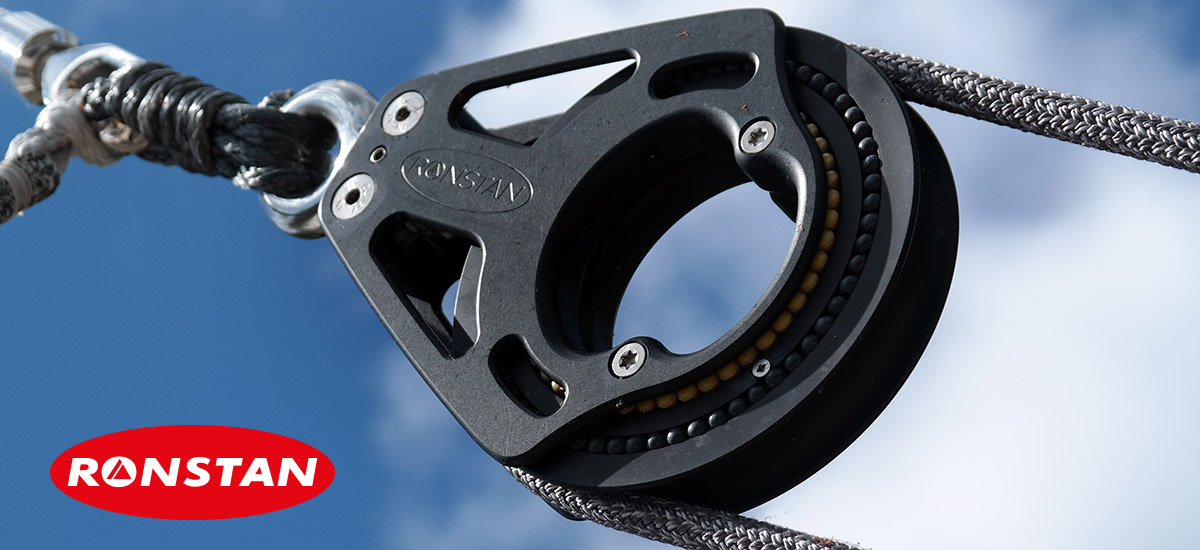 RONSTAN BLOCKS AND GENERAL MARINE FITTINGS
Ronstan has grown well beyond its origins as the Australian market leader in dinghy hardware and general marine fittings. It has become an international powerhouse of the marine industry. Ronstan has a reputation among sailors as the equipment of choice on boats from the flying Moths and the Olympic sailing classes to the record-setting offshore multihull sailboats and the Volvo Race fleet. We have many Ronstan products in stock. If you don't see what you are looking for, do not hesitate to contact us
Ronstan Sailboat Hardware


With over 66 years experience in producing quality marine equipment, Ronstan today is proud to offer over 2000 products developed for all the diverse types of sailing.
Ronstan blocks can be divided in the following categories
- Orbit ballbearing - sports blocks with 2-stage ball bearing system. The 55 Orbit series is for dinghies, catamarans, sportsboats and small keelboats (up to 26-30ft, or 8-9 metres). The 70 series is for keelboats around 36ft (11 metres). 
- Orbit ratchet - for awesome holding power. Delivering up to 20:1 holding power to resist slipping of the loaded line while minimising rope wear.
- Core blocks - for keelboats / larger sailing yachts. Efficient 2-stage bearing system for both high dynamic and static load capacity.
- Utility blocks - for all round solutions and ideal for recreational sailing. Designed for low-maintenance reliability.
- Wire blocks - have purpose designed narrow sheaves and grooves. Suitable for halyards, vang and backstay applications.
- All purpose blocks - self-lubricating acetal polymer sheaves running on polished stainless steel races. Perform equally well with dynamic loads and static loads.
Ronstan shock
Besides blocks, Ronstan also makes loop thimbles in various sizes. The Ronstan shock RopeGlide solution has become iconic. For applications involving high static loads. See in the picture below how to apply the RopeGlide shock thimbles in yacht rigging. It works both with webbing as well with single braid Dyneema® ropes.
Ronstan Cleat
- C-cleats: are made of carbon fibre composite and more durable than T-cleats. They are available in small, medium and large and in several colours. There are wedge kits available when you want to use these cleats on an angle. 
- T-cleats: are made of glass fibre composite. This is a more economic choice over the C-Cleat.
- V-cleats: are mainly used for control lines on dinghies and catamarans
Ronstan Organisers
We have uploaded the series 40 Deck organisers in our webstore. These can handle ropes up to 12mm diameter. If you need any other Ronstan system. Please contact us.
Ronstan Tracks & Cars
Ronstan's ball bearing traveller systems ensure smooth control. These traveller systems deliver the performance required for optimising sail trim. They respond quickly to changing conditions and getting the right balance from the loads on sails, rig and foils. Ronstan systems are used by Volvo Race teams, Vendée Globe challengers and other professional sailors who demand the highest performance and dependability.
I- beam series 19 and 32
These travellers are simple and reliable. The 19 series tracks and cars are made for mainsheet and self-tacking jib travellers on dinghies and catamarans. The series 32 tracks are 32mm wide and 32mm high. These can be used as follows:
- single cars - Mainsheet and self tacking jib travellers on boats up to 9m (30ft)
- tandem cars - Mainsheet systems on boats up to 12m (40ft)

T-Track series 25 and 32
T-Tracks are for small sportsboats and keelboats. T-Track jib lead and spinnaker pole slides blend performance and functionality in a simple, efficient package. Composite slide bodies with plunger stops run on anodised aluminium track, and allow quick and easy manual adjustment. The 25 T-track series is used on boats up to 8m (26ft) whilst the 32 series is designed for boats up to 12m (40ft)
C-Track series
The C-track series 19 is an improved version of Ronstan's proven small boat track and slide systems. The slides are made of glass-fibre reinforced polymer and the track is now alloy instead of stainless steel. This means a weightsaving of 50% compared to earlier systems, yet with identical load capacities. The composite slides also have lower friction when running in the track.
Ronstan Furling systems
Premiumropes sells furlers for small boats and different attachment fittings. Ronstan's Continuous Line Furlers put great performance and reliability within the reach of cruising and racing sailors. We have the above deck jib furler in our webstore for example. This furler is for dinghies and catamarans . Are you looking for different Ronstan furling systems that are not uploaded in our webstore? Contact us and we will help you.
Ronstan Trapeze Hardware
Dinghy sailors will find all hardware needed for trapeze. Examples are the Ronstan trapeze handle, adjustable trapeze ring with a ball bearing block and a figure-8 trapeze ring for a twin loop.
Ronstan Accessories & fittings
These accessories, such as snap shackles, hooks, pins and boom accessories are made to fit with Ronstan furling systems and rigging systems. But you will also find spinnaker shackle guards, fairleads, springs and wedges for cleats in this category.